This is an old revision of the document!
---
Conditions
Define and save detailed custom weather conditions, enable real-time weather, set ILS visibility for all categories and set season, time and simulation rate.
Current Weather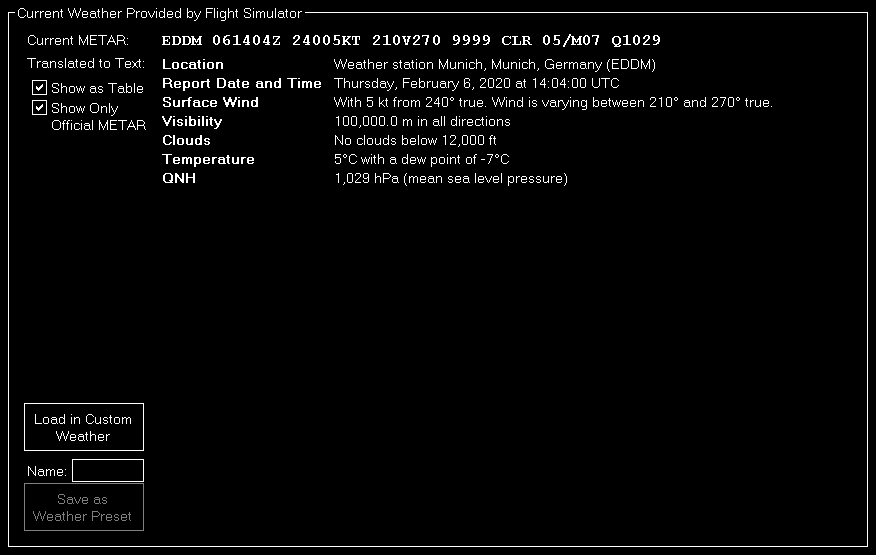 In this section the current weather is displayed as METAR code and translated text.
You can choose if the translated text it displayed as continuous text or structured table. Additionally you can decide if all or only official weather METAR data is displayed.

Note: The flight simulator uses the official METAR format, but extends is with additional extensions. FS-FlightControl can decode both, the official METAR data as well as the flight simulator extensions.
You can load the current weather into the custom weather section or save it as weather presets.
Weather Themes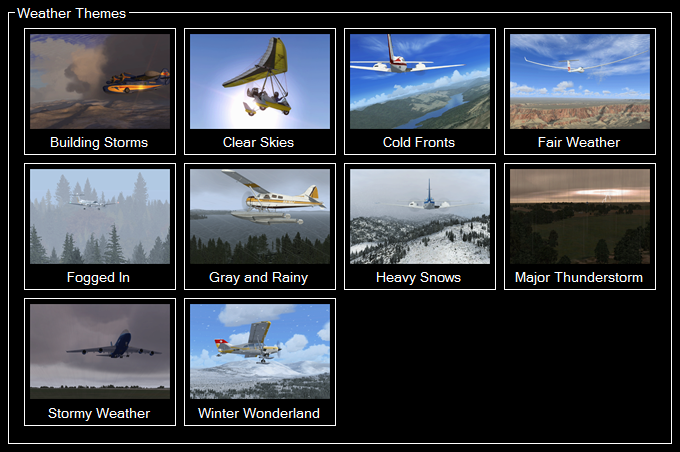 Here all themes that are available in the flight simulator are listed and can be activated with just one click.
ILS Visibility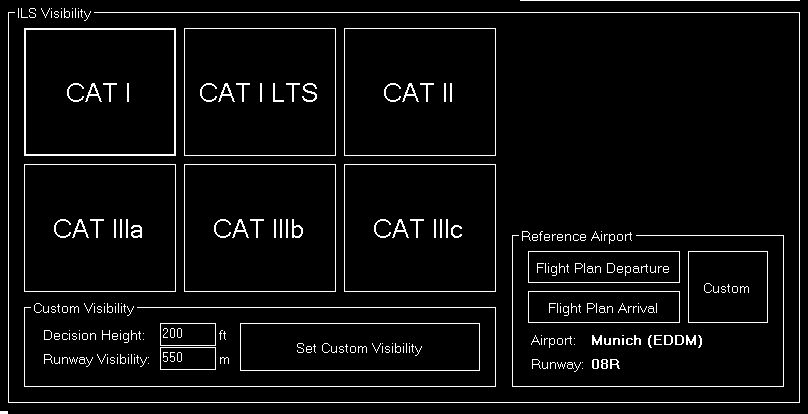 Use this section to set a pre-defined visibility condition for any of the ILS categories.
Following values are the default for decision height and runway visibility:
| | | |
| --- | --- | --- |
| | Decision Height | Runway Visibility |
| CAT I | 200 ft (60.96 m) | 1,800 ft (550 m) |
| CAT II | 100 ft (30.48 m) | 1,000 ft (300 m) |
| CAT IIIa | 50 ft (15.24 m) | 600 ft (180 m) |
| CAT IIIb | 30 ft (9.14 m) | 150 ft (46 m) |
| CAT IIIc | 0 ft (0.00 m) | 30 ft (5 m) |

Note: You can customize these values in the Settings module to your needs.
Real-Time Weather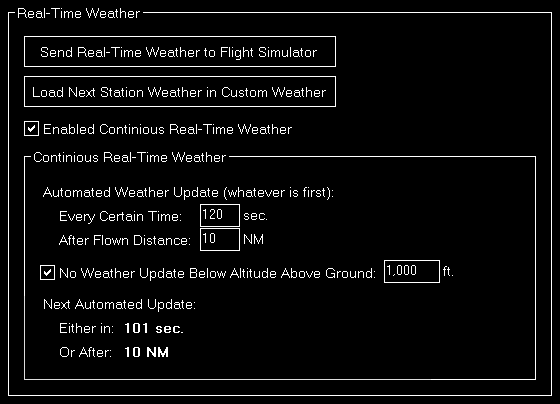 You have the option to enable real-time weather in this section.
Therefore you can either send the current real-time weather directly to flight simulator or load it into the custom weather section.

Note: You can change the used real-time weather source in the Settings module.
Continous Real-Time Weather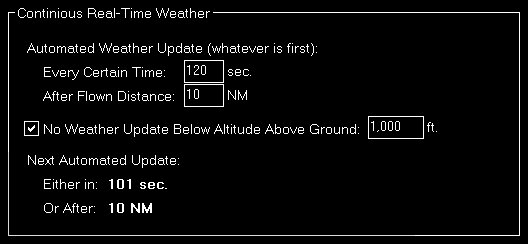 To enable continues real-time weather just activate the corresponding check box. This will enable automated real-time weather updates for all weather stations around the current aircraft location.
You can choose how often this weather update should be performed by entering a certain time interval or a flown distance (or both).
Additionally you can define that automated weather updates should not be performed when the aircraft is below a certain altitude above ground. This makes sure that the pilot is not disturbed while doing a final approach.
Below that some information is displayed to show when the next automated weather update will be performed.
Custom Weather
In case you want to define a completely custom weather situation you can do so in this section.
Load and Send Weather
If you have a METAR string as starting point for your custom weather enter it in the corresponding text field on top of the screen and click on the Load button. This will decode the weather situation defined in the METAR string into the custom weather sections below.
To send the weather define in these custom weather sections to the flight simulator, just click on the Send Weather button.
Add as Weather Preset
You may also save your custom weather situation as weather presets. Just enter a name and then click on the Add Preset button.
Wind Layers
You can define all wind layers - including the surface wind - in this section.
First enter the speed and optional gust speed (keep it 0 if not needed) of the wind layer.
Next you can define the direction where the wind is coming from. You have two additional options regarding the wind direction:
You can define it as Entirely Variable or even enter the from and to direction where the wind is coming from. If the wind should come only from a fixed direction, just keep the Entirely Variable Direction check box unchecked and the variation input fields as 0.
Next you can define if the current wind layer is a surface wind or an wind aloft. In case of a surface wind you have the additional option to define a depth/height of the wind and if it is a wind aloft you can define a maximum altitude (MSL) for it instead.

Note: You may add as many wind layers as you want, but there can be only one of them defined as surface wind.
Finally you can define turbulances in this wind layer as
None

Light

Moderate

Heavy

Severe
and wind shears as:
Gradual (none)

Moderate

Steep

Instantaneous
Cloud Layers
Here you can define all cloud layers of the custom weather situation.
First enter a base altitude (MSL) for the cloud layer.
Then you can define several additional parameters for like cloud coverage as of
Few Clouds

Scattered Clouds

Broken Clouds

Overcast

1/8 Coverage

2/8 Coverage

3/8 Coverage

4/8 Coverage

5/8 Coverage

6/8 Coverage

7/8 Coverage

8/8 Coverage
cloud type as of
Cirrus

Stratus

Cumulus

Cumulo-nimbus
top of the cloud as of
turbulances in the cloud layer as of
None

Light

Moderate

Heavy

Severe
type of precipitation as of
None

Rain

Freezing Rain

Hail

Snow
precipitation strength as of
Very Light

Light

Moderate

Heavy

Dense
the base altitude of the precipitation as well as the icing rate as of
None

Trace

Light

Moderate

Severe
Visibility Layers
The visibility layers of the custom weather situation can be defined in this section.
First enter the base and maximum (top) altitude (MSL) of the visibility layer.
Then you can define the visibility in this layer itself.
Finally you can decide in which direction this visibility should be effective as of
All

North-West

North

North-East

East

South-East

South

South-West

West

Note: To set the same visibility for more than one direction, but not for all, just create another visibility layer with the same base and maximum altitude.
Temperature Layers
Also individual temperature layers can be defined for your custom weather situation.
First enter the maximum altitude (MSL) up to which this layer should be valid.
Then you can enter the temperature and dew point of this temperature layer.
Atmospheric Pressure
Here you can define the atmospheric pressure for your custom weather situation.
Weather Presets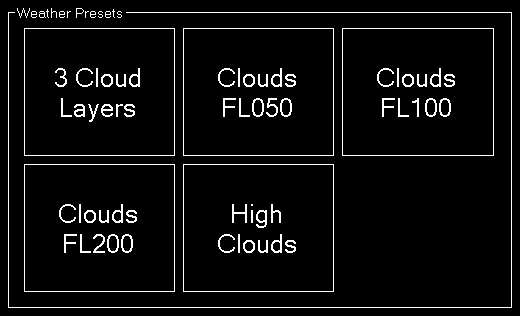 All your saved weather presets are listed here. There is no limit in the number of weather presets you can define.
To delete a weather preset again, just right-click (for touch-screens: "long touch") on one of the presets. Then you will be asked if you want to delete it.
Season and Time
In this section you have a quick and easy control of the current season.
Just click on one of the pre-defined season buttons.
Set Custom Date and Time
Additionally you can define a completely custom date and time in this section.
Simulation Rate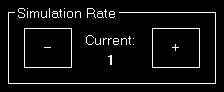 Beside a very detailed weather configuration system this module offers here also an easy way to change the current simulation rate of the simulator.
General Info

Additionally in the bottom right of the screen you always have an eye on the current frame rate and simulator time.
---